The first Permaculture Festival in 2014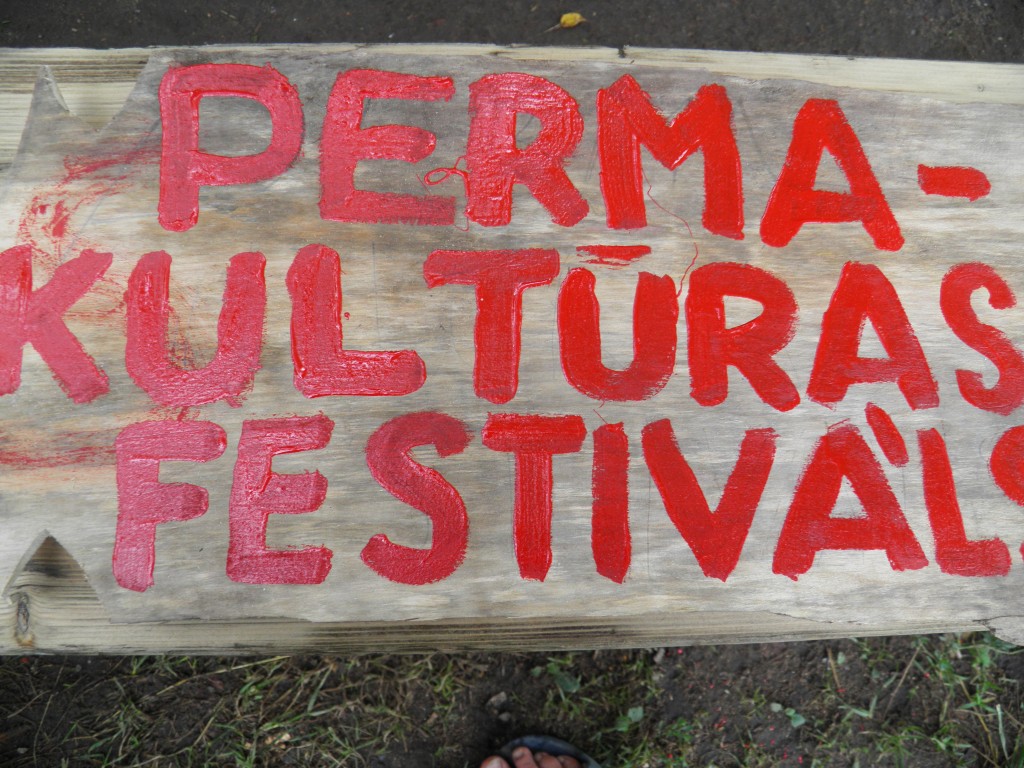 The first Permaculture festival in Latvia "SOL-MI" was held in Ambeli local municipality, Daugavpils county in August 2-4, 2014. The workshops in festival "SOL-MI" were included eco-building, eco-gardening, eco-kitchen, life music. The participants of the festival were about 60 people from Latvia and guests from Armenia, Italy.
Pēteris Paukšs presented a topic on sustainable farming. Latgale ceramic master Ēvalds Vasiļevskis leaded an eco-building workshop, involving participants to make a building usic cob, that is a natural building material made from clay and water. Ēriks Fogels showed different solutions how to recycle plastic and other materials. A carpenter Oskars Mežnieks showed and trained how to hew the logs. Oskars have had similar workshops in Sweden, too.
Participants of the festival was introduced with the organic farm of Ilze and Oskars Mežnieks, who use different permaculture methods. There was a opportunity during the eco-building workshops to learn how to make a rye flour colour, which is an environmentally friendly way to protect the wood. A guest Helēna Piziča moderated a conversation and debate on healthy lifestyle, sharing also her own knowledge and experience in this field.
A special guest in the festival "SOL-MI" was Mateo Macola from Italy. He offered theoretical lessons and workshops on organic ferilizer fermentation. Jānis Puntulis, a seed collector, shared his experience on documentation of ancient homes, farms. Edmunds Kance had a lecture about sustainable forestry.
Eco-kitchen workshops on cheese making was leaded by Astrīda Dambīte. As a particulary healthy sauce – a weed pesto was also offered. There was a plant tea fermentation process showed, too. During the festival all the meals were vegetarian with Latgalan culinary heritage dishes, made from available fresh seasonal vegetables.
All the participants of the festival were volunteers, assisting in preparing food, taking care of different tasks in the place of festival, helping to the hosts to do daily works in their farm.
There was a life music concert in the festival on saturday evening. The traditional singing and music was performed by Anete Simanovska, Daugavpils county folk group "Dyrbyni" and guest Armina from Armenia. There were two musicians who are composing their own songs – Brigita Madelāne (Daugavpils) and Dainis Adijāns (Rēzekne). The concert continued with a social dancing party in the evening, where the folk group "Dyrbyni" was playing the traditional music and leading traditional dances.
At the end of the festival participants agreed that it is necessary to organize similar festival in future.
The name of the festival "SOL-MI" represents a word game. From the one side "sol" and "mi" are know as a sounds in music, from the other side "solmi" in Latgalian regional language means 'straw' that is important material for mulching and other methods of permaculture.
The first permaculture festival "SOL-MI" was organized by NGO "Kulturys studeja "Speiga"" within the project ""Biedrības "Kulturys studeja "Speiga"" darbības programma Latgales lauku ilgtspējas veicināšanai". The project is financially supported by Iceland, Liechtenstein and Norway.